This call for projects aims to enable space-related projects and experiments to be integrated into the space analog mission Asclepios III. In particular, the call targets any research groups, companies, students, and start-ups that do research in the fields of space medicine. Key research areas include identification and evaluation of medical risks in the lunar environment, space nutrition, life support systems, sleep quality, human behavior in isolation, space physiology, microbiology and everything related to the physical and mental health of the astronauts.
This call is also applicable to projects that explore the fields of environmental sciences and sustainability of lunar operations, engineering and astrophysics.
The mission
The analog mission Asclepios III, launching in summer 2023, will be a lunar base simulation. The astronauts are students that will go through extensive training to master the successful execution of the selected projects and experiments. Upon successful completion of the trainings, six astronauts will be ready to spend two weeks isolated inside a simulated lunar base, in Switzerland, and they will take part in extravehicular activities (EVAs). The exact location of the mission will be announced no later than November 2022.
Themes of the call
The structure of the science themes is divided into three macro areas. This year Space Medicine is the main macro area (primary mission objective), followed by Environmental Sciences and Sustainability, Engineering and Physics (secondary mission objectives). Here are some examples of the fields you can fit your project into. If your project does not fall into these themes, but you think it is relevant to space exploration and life on the Moon, we still want to hear from you!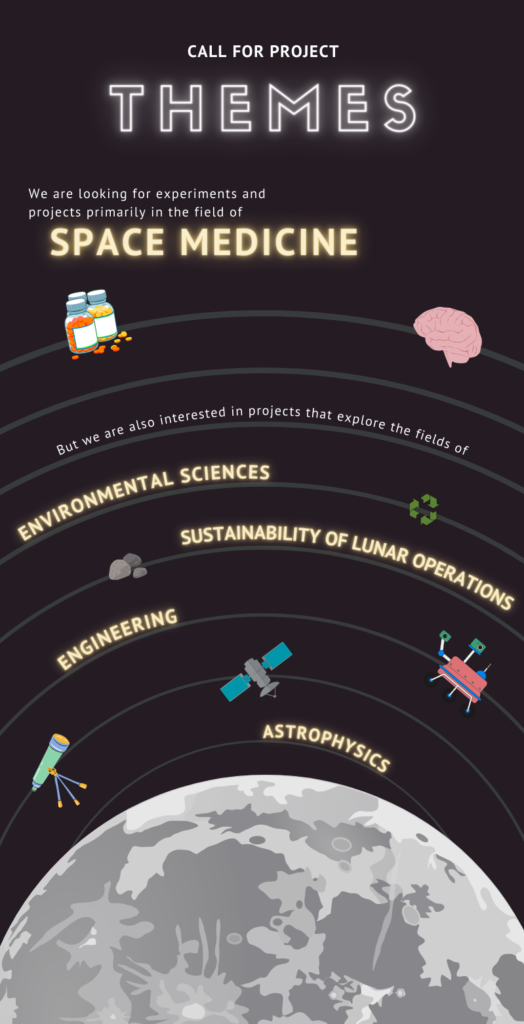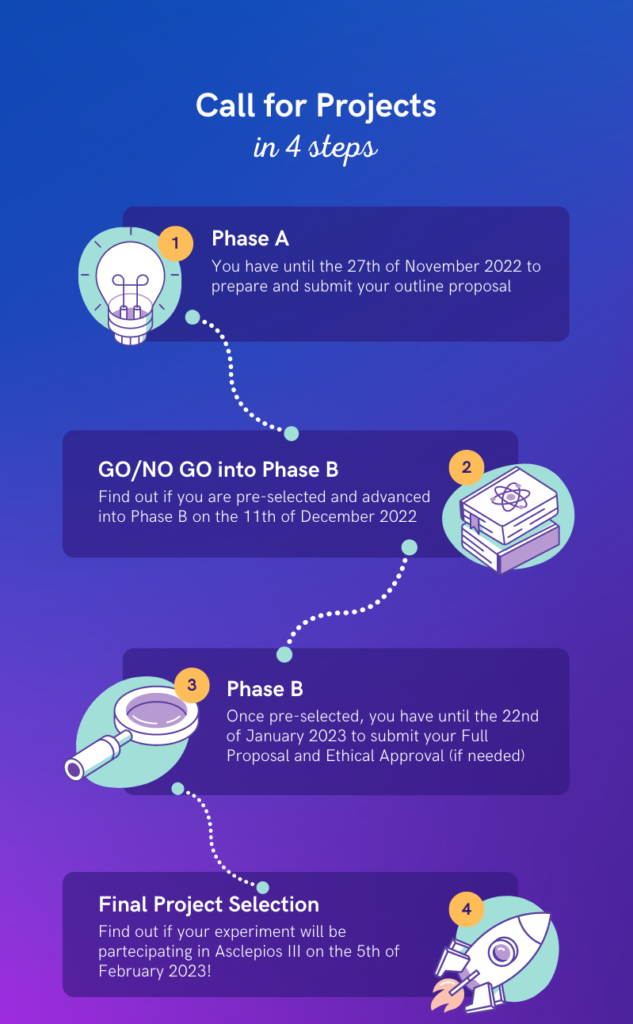 On which criteria are the projects selected?
Selection criteria include coherence with mission statement, economical and ethical considerations, complexity of operations and logistics, novelty, sustainability and safety. The chosen projects should also generate valuable scientific output, leading to high-impact publication that contribute to space exploration. Furthermore, being partners of Asclepios increase the chance of a project being selected.
For more information on the selection criteria, click here.
Does your project need ethical approval?
All research involving human participants and/or human tissue requires ethical approval. In the case of Asclepios, the projects need ethical approval from the Ticino ethics committee. The approval must be sent to Asclepios by the end of Phase B, on the 22nd of January 2023. If your project does not need ethical approval, proof of that needs to be sent to Asclepios by the same date. More information about this will be sent to the PIs that progress into Phase B.
The Asclepios team can inform you and/or assist you after your submission if your project needs an ethical approval.
How to apply?
The selection of the projects and experiments will consist of two rounds of evaluation. In Phase A, all interested candidates must submit an outline proposal of their experiment or project until the 27th of November 2022, 23:59 CET. The candidates that have successfully been pre-selected will be notified on the 11th of December 2022 and subsequently advance into Phase B, where they will have to submit a full proposal by the 22nd of January 2023, 23:59 CET. The full proposal includes proof of ethical approval or proof that project does not need ethical approval. Other requirements and details for the full proposal will be communicated to the principal investigators progressed into Phase B.
To apply fill the Google Form. In order to complete this form, you will need to download and submit the Outline Proposal.
Please note that applications submitted after the deadline or via other means than the application form will not be considered. Keep in mind also that we only offer limited funding since we are a non-profit student association with a small budget. Our goal is to be a platform for researchers and companies to test their space-related projects and experiments.
For more information, please contact asclepios.sc2023@gmail.com