Warum dem Projekt beitreten?
Kompetenzentwicklung: Führung, Professionalität, Fachworkshops, Hard Skills je nach Position & Team…
Toller Spirit der Zusammenarbeit in einem vielfältigen & internationalen Team!
Networking: Kontakt und Zusammenarbeit mit Raumfahrtprofis und Wissenschaftlern, Industrien, Medien…

Eine wundervolle Mission am Ende!
Wie wird man ein Mitglied?
Um sich für das Projekt zu bewerben, füllen Sie das untenstehende Kontaktformular aus und geben Sie an, welches Team und welche Aufgaben (siehe unten) Sie interessieren. Nach Eingang Ihrer Kandidatur werden Sie von den Leitern der Teams, für die Sie sich beworben haben, kontaktiert. Sie werden Sie interviewen, um Ihre Motivation und Rolle im Asclepios-Projekt zu besprechen.
Mitglieder des Projekts sind Mitglieder des Vereins Asclepios, der die Förderung der Weltraumwissenschaften zum Ziel hat und für das Asclepios-Projekt verantwortlich ist. Der jährliche Mitgliedsbeitrag beträgt CHF 25.- (Schweizer Franken). Wenn Sie ausgewählt werden, informieren wir Sie ausführlich über den Beitritt zum Asklepios-Verein.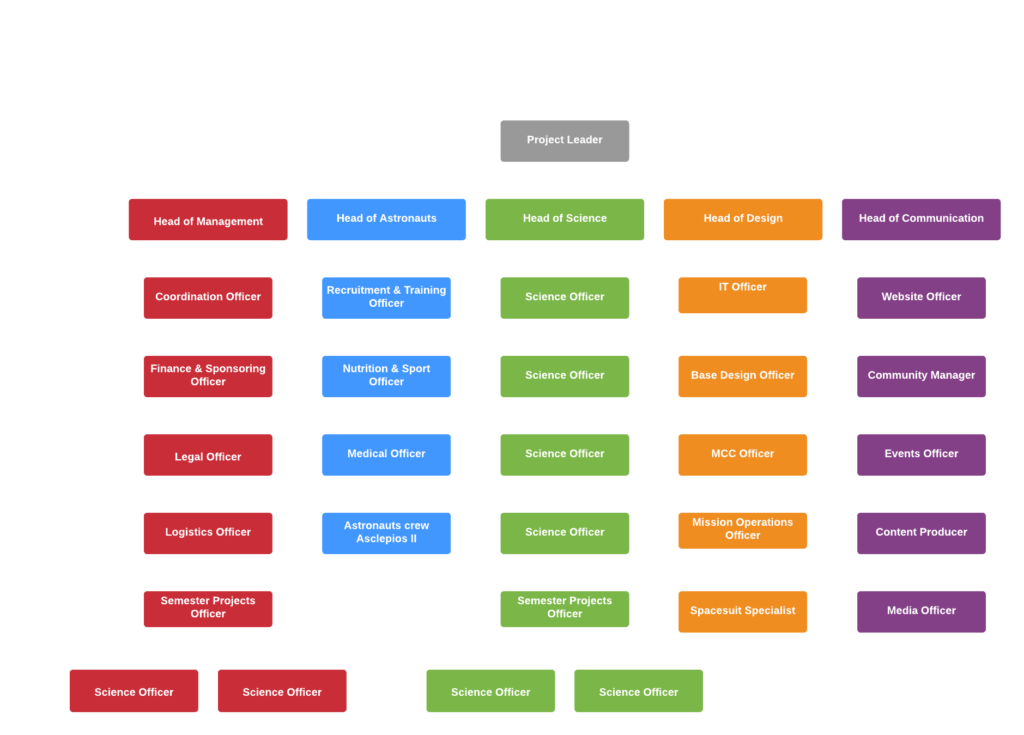 Project Leader
Requirements: 20 hours/week, speaks English & French, at EPFL
Decision-making, coordination & well being of the team, public representation of the project.
Availability: Open
Coordination Officer
MAKE Officer
Finance & Sponsoring Officer
Logistics Officer
Head of Management
Legal Officer
Head of Astronauts
Requirements: 15 hours/week, speaks English & French, around Lausanne
Handles everything related to the astronauts crew, their recruitment & trainings, their health and physical activities. Manages the team.
Availability: Closed
Recruitment & Training Officer
Nutrition & Sport Officer
Medical Officer
Head of Science
Requirements: 15h/week
Manages the team, supervises the collaboration with external laboratories, researchers, companies, ensures deadlines are met.
Availability: Closed
Science Officers
Head of Design
Requirements: 15 hours/week, speaks English & French, around Lausanne
Coordinates tasks and resources within the Design team and information with other WPs. Ensures a coherent vision and quality of work. Keeps track of the team's budget.
Availability: Closed
Interior Design Officer
Mission Control Center (MCC) Design Officer
IT Systems Officer
Mission Operations Officer
Spacesuit Specialist
Head of Communication
Requirements: 10 to 15 hours/week, speaks English & French, around Lausanne
Manages the team, in charge of the outreach of the project, ensures the quality of the work.
Availability: Open
Website Officer
Community Manager
Events Officer
Raw Material Producer
Media Officer